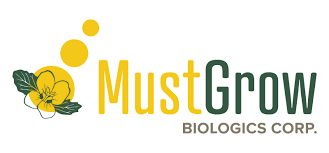 MustGrow Biologics Corp.
Symbol:

TSXV: MGRO

OTCQB: MGROF

Market Cap: 95M

Purpose Raise Awareness, Open Market Buying

Sector: Biotech
Summary:
​​Investing in MustGrow is an investment in sustainable agriculture and this market is growing globally as more food will be needed feed an increasing
BUT, how are farmers going to do this as synthetic chemicals and fertilizers become restricted/banned?

MustGrow is providing an effective biological solution to treat diseases and pests, both in field and in storage.
MustGrow's natural organic technology is unique in the biological space as it is similar to synthetics:
It is effective like synthetics (many biologicals are not).
There potential healthy margins at a synthetic chemical pricing (many biologics need to price higher). It can be used in the same application methods as synthetics
Global synthetic chemical industry (US$65 billion) and synthetic fertilizer industry (US$193 billion) are under pressure as consumers and regulators want more sustainable food production:

Synthetic chemicals and fertilizers are being banned and restricted and natural, organic products like MustGrow's will be needed.
MustGrow has a tight capital structure with only 49.7 million shares outstanding (55.6 million FD):

~20% is insider owned.
Great potential for tight capital structure to remain and to get positive EBITDA as CAPEX requirement could be minimal to get in to production (toll manufactures)

Approximately, 1-5 million L of production identified (equates to gross sales value of US#10-50 million at synthetic chemical pricing
Strong cash position at C#5.6 million

Enough cas for next two years, while the company moves toward commercialization and initial sales.