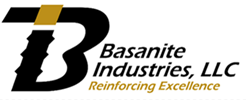 Basanite Inc.
Symbol:
Private
OTCQB: BASA
Market Cap: Private
Sector: Special Situations
Summary:
Basanite is a manufacturer of environmentally friendly, high-performance composite construction materials made from basalt fiber and basalt fiber reinforced polymer.
Basanite is the manufacturer of BasaFlex™, an enhanced Basalt Rebar, engineered to add intrinsic value in a concrete structure, and as a sustainable, non-corrosive alternative to conventional steel reinforcement for Residential, Commercial & Industrial Slabs on Grade, Hydraulic Structures and Precast Concrete Elements.
BasaFlex is superior to traditional steel rebar by being non-corrosive, lighter, stronger, and longer lasting in a concrete structures by eliminating corrosion problems associated with steel reinforcement which results in time and money savings over the structure's lifecycle.